The Shared Worlds Critter Corral is live! Go there and discover a world full of strange and fantastic creatures like the King of the Mouse Vikings, the rare Antharian Bloob, the vicious Uk-Uk Pra, The Smiling Blue Balloonga and the gigantic (but gentle) Rudisaurus Dulcis.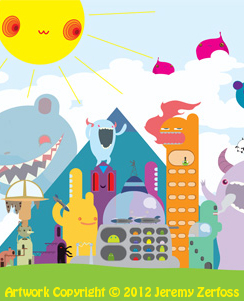 Conceived by Jeff Vandermeer and edited by Teri Goulding, the Corral features flash fiction by Neil Gaiman, Gene Wolfe, N.K. Jemisin, Patrick Rothfuss, Greg Bossert, Johanna Sinisalo and many more! I had the honour of making a contribution - see if you can find it. All these stories are based around the amazing art of Jeremy Zerfoss.
Shared Worlds is a writing camp for teens interested in fantastic fiction,  and I wish I could have attended it as a kid. The participants get to create their own world, complete with laws of nature, languages and cultures - and then write stories inside that world. They get to hang out with experienced authors and network with other young writers from around the world. Does it get better? Hardly. This year, guests include Jeff Vandermeer, Ann Vandermeer, Naomi Novik and Karin Lowachee.
This project is funded by participant tuition and donations. That means you can donate to the project, which means you're helping young aspiring writers find their way.
Now. Don't you want to know what a Niiskusiippa is? Go go go.